Electron beam evaporator BESTEC (EVAPORATOR)
---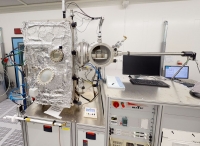 Profile card (PDF)
Guarantor:
Jan Prášek, Ph.D.
Instrument status:


Operational, 24.6.2021 17:27
Equipment placement:
CEITEC Nano - C1.36
---
Electron Beam Physical Vapor Deposition or EBPVD is a form of physical vapor deposition in which a target anode is bombarded with an electron beam given off by a charged tungsten filament under high vacuum. The electron beam causes atoms from the target to transform into the gaseous phase. These atoms then precipitate into solid form, coating everything in the vacuum chamber (within line of sight) with a thin layer of the anode material.
---
Publications:
Show more publications...
Substrate temperature
RT – 900 °C
8 materials
please check the Logbook for current materials inside the Evaporator
Loadlock
YES
Sample size
up to 7 × 7"
Rotation of substrate
YES
Tilt of substrate holder
up to 45°
Electron source
up to 10 kW

Standard materials

Au, Ag, Al, Ti, Cr, Co, Cu, Ni, Fe, VO2, SiO2, Cr2O3, NiFe, NiCr, Co60Fe20B20
Additional cost - Au

​Self-service users have 20 nm of Au for free - everything above is 15 CZK/nm

Full-service cost is 15 CZK/nm for academic and 20 CZK/nm for commercial projects
Here is place for your documents.