PC room / Shared office space
CEITEC Nano offers shared office space (known as the PC room) for registered users who don't have a permanent office at CEITEC BUT. It is located in room C2.10.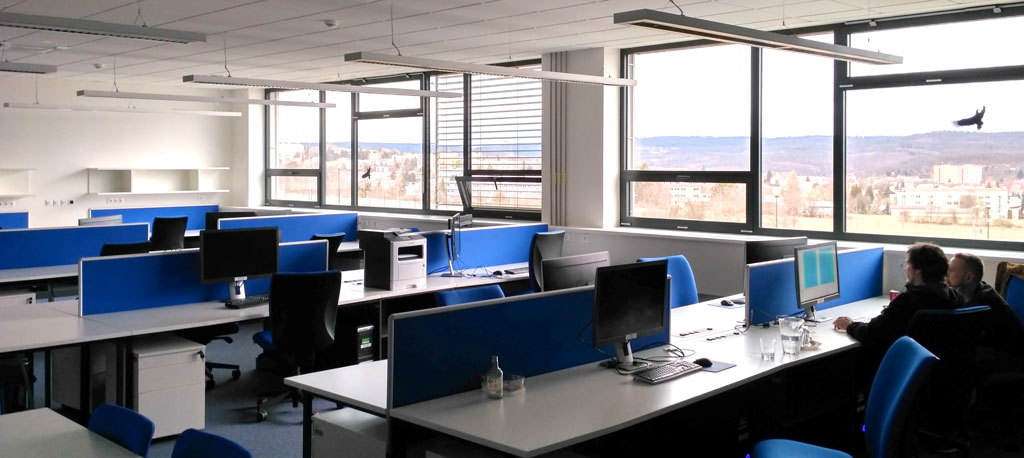 There are 14 PC machines (CPU Intel® Core i7-6700, 16GB DDR4, MSI GTX 960 2GD5, DVD-RW, 27" LCD monitor) and a network laser printer available for all of our users.
Basic rule – first come first serve.
GenISys Beamer, Tracer and Lab software - to get access please contact Vojtěch Švarc or Radim Zahradníček.
It is not permitted to install any other software. If you need any special software please ask at the User office for permission to install it.

Software installed:

Hysitron OFFLINE (PC8)

Project FIVE - data processing Software for Raman Spectroscopy (PC7)
Avizo - 3D visualization and analysis software (PC1)
CasaXPS - Processing Software for XPS, AES, SIMS and More (PC10)
Surface Lab for SIMS-IONTOF & CloudStation for datatranser from Instrument PC (PC5)
ESCApe - Kratos (PC10)
SESSA - Simulation of Electron Spectra for Surface Analysis (PC10)
Edax Team – post processing EDS/WDS/EBSD data (PC13 & PC14)
Edax OIM Analysis – post processing EBSD data (PC13 & PC14)
Office 365
OriginPro 2015 (PC9)
Klayout
AVG
Tescan Atlas - Draw Beam
RAITH Elphy
Matlab
LabView
AutoDesk Inventor
Gwyddion - SPM image proccesing
ImageJ
Adobe reader
Inkscape