Low pressure chemical vapor deposition - Nitrides (LPCVD-SiN)
---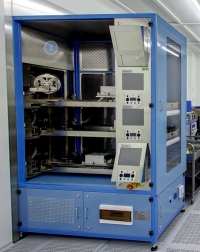 Profile card (PDF)
Guarantor:
Filip Münz, Ph.D.
Instrument status:


Operational, 9.2.2018 16:44
Equipment placement:
CEITEC Nano - C1.34
---
This position within the LPCVD system is dedicated to growth of silicon nitrides of different stechiometry on Si wafers, using dichlorosilane (SiCl2H2) and ammonia (NH3) as precursors in LPCVD process.
Here is place to edit your specification.
Here is place for your documents.