Resist Coating and development system SÜSS MicroTec RCD8
Guarantor
RCD8 is a semi-automated tool for quality coating and developing of flat substrates. The size of the substrates it can handle varies from 2 inch to 8 inch wafers. Our tool offers three configurations: open-bowl spin-coater, GYRSET© spin-coater, and developer. GYRSET© is a special technology provided by SUSS MicroTec which allows for uniform coating of non-circular and/or irregular substrates in general. Developer module is capable of puddle and spray development.
The tool is equipped with dispense arm with two replaceable heads. One is for resist and solvent dispense, the other one is for developer dispense. At this time we have one main resist line and one developer line. It is also possible to use syringes to dispense almost any kind of resist or developer. The tool has back side rinse and edge bead removal functions, so coated wafers are prepared for the next lithographic steps right away.
RCD8 can provide high quality coatings due to the precise dynamic dispense system, much better than conventional manual spin-coaters. The quality of the initial resist film is crucial to achieve good results in the nanofabrication workflow.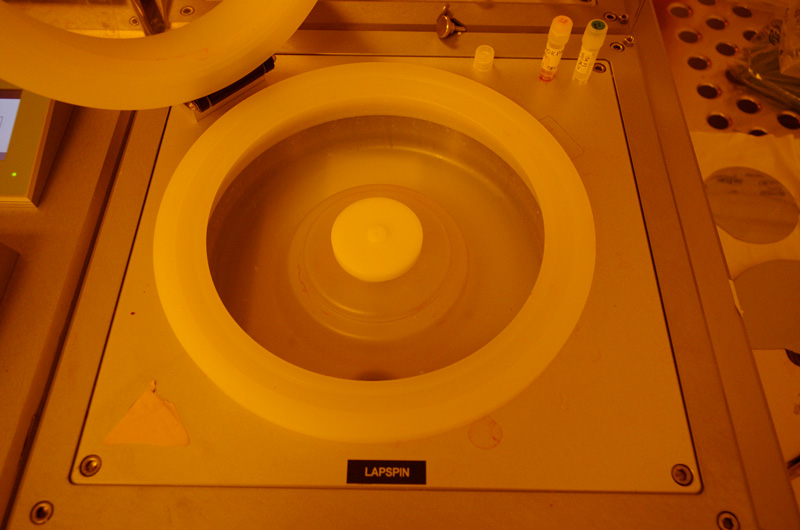 General
| | |
| --- | --- |
| Substrate size | 2" to 200 mm round, 2" to 150 mm square |
| Substrate Handling | manual, lift pins |
| User Interface | SUSS MMC Tool Control on Win 7, industrial PC, touch screen |
| Max. # of Recipes | more than 10 000 |
| Max. # of Process Steps | 50 |


Module: Open Bowl Coater
| | |
| --- | --- |
| Spin Speed Max | 10 000 RPM |
| Spin Acceleration | 1 – 7000 RPM/s |
| Bowl Material | Ni-plated Al |
| Dispense arm | 1 resist line, 1 solvent line, motorized syringe pump |
Module: Gyrset Coater
| | |
| --- | --- |
| Spin Speed Max | 3 000 RPM |
| Spin Acceleration | 1 – 3000 RPM/s |
| Bowl Material | Ni-plated Al |
| Cover Options | 3 different sizes in low and high versions |
Module: Puddle developer
| | |
| --- | --- |
| Spin Speed Max | 10 000 RPM |
| Spin Acceleration | 1 – 7000 RPM/s |
| Bowl Material | PE |
| Cover Options | 1 developer line |